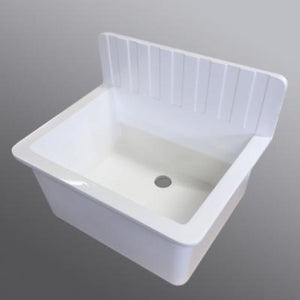 Great little basin for Outdoor kitchens near the braai
Counter drop in or onto a wall.
470 x 360 x 350 high with a 210mm front edge.
Available in Black and White, Black or Cement colour.
We do require a few days to ensure in stock.  Mainly on colours.
Works well in a guest loo or a small bathroom.  
Shatterproof.
Scratch proof.
Stain proof.
Cleaned gently with only soap and then Polished with Mr. Min ensures a long lasting new look.
Black/Black and white as well as cement colours are available.