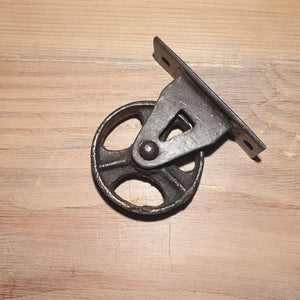 SMALL FIXED CAST IRON WHEEL 
Solid Steel Industrial Wheel.
The small wheel with a fixed backplate. 
Standing .80mm high
OBLONG fixing backplate of .90 x .30mm 2 screw holes.
Wheel size .65mm x 20mm flat iron with design to centre.
Wonderful for getting furniture slightly higher and mobile.
Big and bold and sturdy.