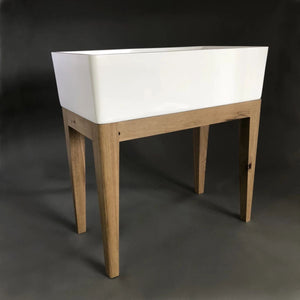 Used as a kitchen free standing basin as well as a bathroom basin.
Great for Farmhouse kitchens, Shaker Kitchens as well as Modern Industrial kitchens.   Bathrooms or guest loos.  
Available in Single or Double and White, black and white or Matte Black.
Also available in a smaller size.
800mm Wide
425mm Deep
850mm High
The Wood part is an on order only item.  This will take 3 to 4 weeks to manufacture.